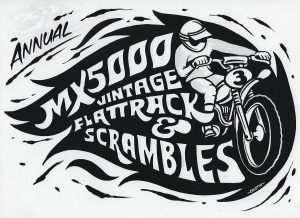 The 4th annual MX5000 is March 30, 2019!
2331 GA 137
Reynolds, GA
Classes:
Cross Country:

Vintage
Inappropriate
Monoshock

Motocross:

Open vintage – twinshock
Monoshock – up to 1995
Ladies
Mini – 100cc up to 150cc, air cooled
Inappropriate

Flat Track:

Open vintage – twinshock pre-81
Sportsman – single cylinder
Inappropriate
Street bikes
Ladies
Mini – 100cc up to 150cc, air cooled
Mini – 16-in or smaller wheels
Preliminary Schedule
8:00-9:30 MX practice
9:30 MX rider's meeting
10:00 MX races
1:00 Cross country meeting and sighting lap
2:30 Cross country races
4:30 Flat Track practice
5:30 Flat track rider's meeting
6:00 Flat track races
Cost:
$10 gate fee
$30 for the first class, $10 each additional class
On-site registration, cash preferred.
Camping:
On-site camping (RVs, campers, tents allowed) both Friday and Saturday nights included with gate fee.
No electricity or water available. Port-a-potties on site. The nearest town (for food/drink supplies) is a few miles away.
If conditions are wet, getting stuck in a larger vehicle is a possibility – plan accordingly.