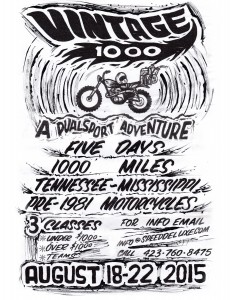 There was some talk between friends regarding a 5-5-5 ride that had been planned a few years ago (? as to whether it is still occurring), during which $500 motorcycles traveled 500 miles over 5 days. It inspired the Vintage 1000 that we organized for the first time in 2015. Adam had this great idea of a 5-day 1000-mile trip on vintage motorcycles that cost <$1000 (excluding tires). When deciding the route, the Trans-America Trail (AKA: the "TAT") seemed the perfect choice. It is a west bound dual-sport motorcycle ride across America. The Trail starts in "Southeastern Tennessee and ends at the Pacific Ocean in southwestern Oregon – nearly 5,000 miles of mostly off-pavement riding. It is not a single-track tight woods ride. It is a route using dirt roads, gravel roads, jeep roads, forest roads, and farm roads. Dropping down into dried-up creek beds. Riding atop abandoned railroad grades. There are sections of mud, sand, snow and rocks."
Feedback from various people resulted in 3 classes: <$1000, >$1000, and teams. Although the original plan was pre-1980, requests were received to include 1980 models, so it became pre-1981.
We planned the route, starting in Soddy Daisy, TN and including 2 loops through Tennessee and Mississippi so that we could return to the origin, and identified potential campgrounds. We found a support vehicle (thanks Chastin and Lauren!) and a trailer.
The original feedback led us to believe that we were going to have participants in the double digits; however, as registrations closed, we had 7 riders, including Adam. In hindsight, this was awesome for the first year. Most of the bikes were not even running the week before the event, and the first bike broke down on the way to the shop. Adam and Mark were still finishing their bikes the morning of, and only Adam, Mark, and Chastin had their roll charts ready. A promising start…
Spencer's transmission went 7 miles into the ride, and the support vehicle was required already.
At one point during the ride, we were down to 2 running bikes (Adam and Mark), but by the end, we were back up to 4 bikes, and everyone rode (some on the back) back into Chattanooga.
It was an epic 5 days. We did not make it the full route, and one bike burnt to the ground. We're looking forward to next year and using this year as an awesome learning experience to make it that much better.

To keep up to date on the 2016 ride, follow us on instagram, and make sure to check out some of the photos from the 2015 event: