Unlike Adam, I find it challenging to envision the finished product when looking at a motorcycle that is either in pieces or is something that starts out like this: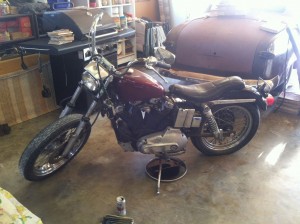 While this sportster was originally going to be Adam's, for the sake of expedience, it has now become mine (my '73 Ironhead Sportster is still in boxes, while this one at least ran).
Adam had started to turn it into this: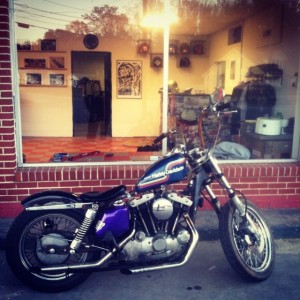 When I inherited it, it looked like this: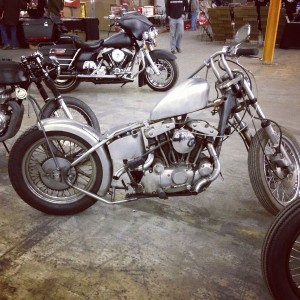 I had already decided to turn my sportster into a chopper, although I'd never really imagined myself having a proper chopper. But the lines of the bike inspired me to have a king queen seat based on some of the photos I'd seen of other bikes in magazines. So, that's where it began.
Of course, with a king queen seat, one must have a sissy bar. Adam, please make me a sissy bar that is taller than me when I'm sitting and a seat pan that goes up to about here. I wasn't happy with the narrowed tank that Adam had on it, so a frisco sportster tank was in order. Next, I sat for a fitting for handlebars (ask Talon how that went):
Some black paint on the tins and powdercoating on the frame, and it's starting to come together.
Although each part on its own, including the trimmed seat, did not match what I saw in my mind's eye, as it comes together, it is looking like the type of chopper that I wanted: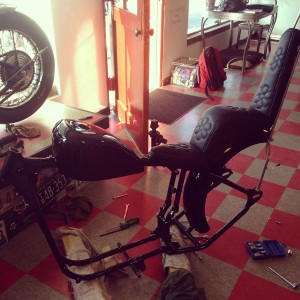 Jerry at TJ's Trim Shop in Soddy Daisy has made a few seats for us now and is always "excited" to see what challenge we have for him next. He was especially thrilled to hear that I wanted daisies on my seat, but he obliged, and they turned out well!
Next, finish the engine, front end, front and rear wheels (which will remain as the originals for now until I decide exactly what I want), and the final paint on the tank (will have to wait for photos for the final effect).
Will keep you updated on the progress….Jamie